I've been a bit odd for a few days, my mind is all disjointed. I'm a bit at sixes and sevens. I keep picking things up, moving them around and not achieving anything. I can't focus. The feng shui must be all wrong! Actually I KNOW the Feng Shui must be all wrong since I don't have a clue about it. I'm just tired. The baby wakes once a night and then there's the weirdy womb waking me this week too. But luckily that does seem to be ok most of the time now so hopefully things will settle back into their old routine shortly. Anyway, I'm weary and a bit wired, too many things I want to do, too many distractions, too much MESS everywhere. I should go to bed earlier but I find that by the time I've battled through the afternoon/early evening slump I'm wired with adrenalin and could then carry on pottering all night.
Necklace is top right. Aquamarine stone in a fine chain, very delicate.
One of the highlights of the week was receiving this necklace I have been dreaming of for some time. I had to collect it from the post office as I missed the postie. If I'd known what was in there I'd have grabbed by camera. Instead I ripped it open with a squeal right outside the post office.
Ok so I had to give the Mr a bit of a hint! Oh all right, a rather big hint, but the subtle ones weren't working and I felt it only right that Mini was celebrated like his brothers were. An eternity ring when Big arrived as is tradition and earrings when Little was born.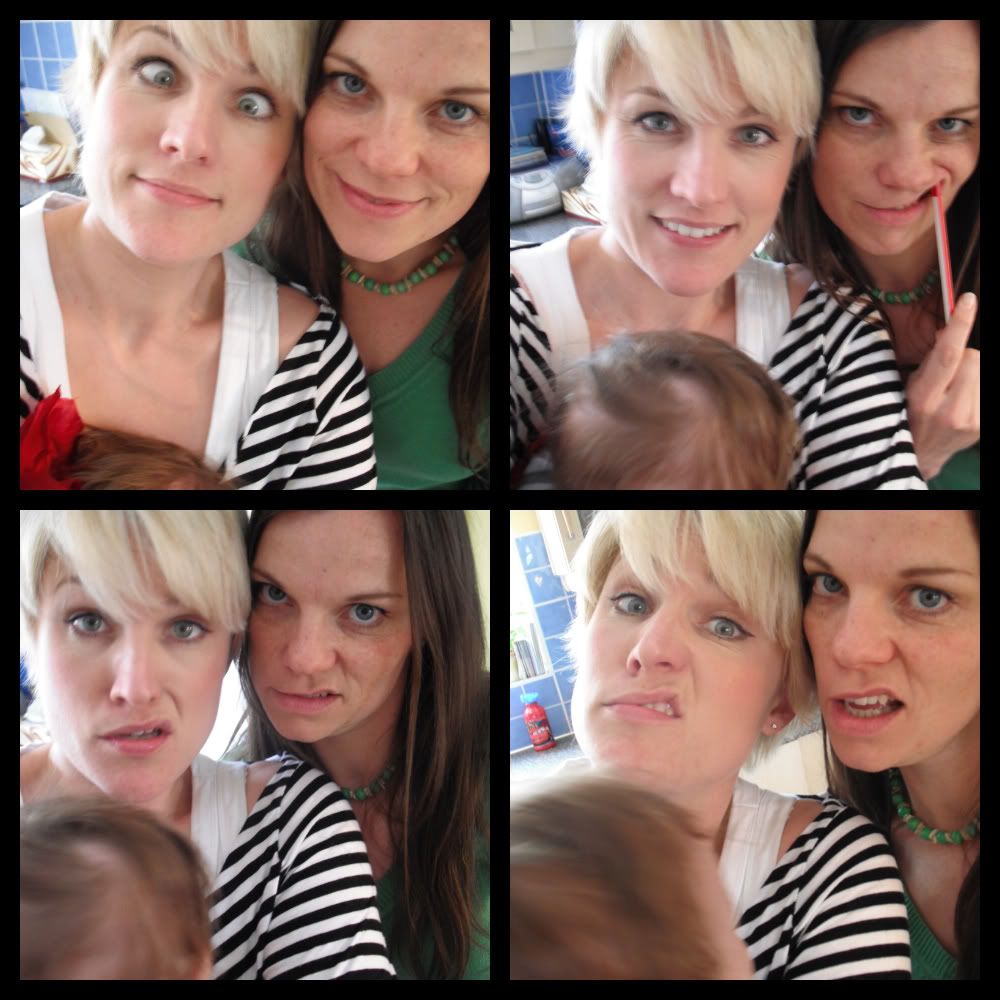 I went to visit
Bee
on Thursday last week and it was so lovely. A real tonic. We did our usual silly face pulling thing, I must have thousands of photo's of us looking silly. Gosh I was having a Very Bad Hair day!
A photo of a photo.
I think this may be one of only six photo's where we both look nice, shame it's so faded now but it is 14 years old so that's no surprise. Every other photo has either one or both of us pulling a face. It's a compulsion. We are so immature when we are together. I love it, so does she. Our husbands? They despair (we don't care).
We got her blog set up, she hasn't had a lot of time to write posts yet but she's keen to create a blog that will be a wonderful memento for her children in years to come. It'll be a great outlet for her too. She has one of those crazy, complicated minds that is prone to over analysing and never relaxing. So her blog can be a place to brain dump too. I think she'll love it.
Look at the size of that baby! He is 16lbs 15oz now. What a whopper! He's gone up a centile too in spite of feeding less than the charts recommend. Yet he's still not sleeping through, the monkey. I know he can do it as he has done so several times, just not for weeks now. Zzzzzzzzzzzz
Talking about funny faces, I think Little may be a chip off the old block. He stuck eye ball stickers on himself and his brother.
I laughed so hard at them, they looked hilarious in real life, especially when they were blinking. It was like the sticker eyes were rolling. The photo's set me off every time I see them. I don't know that they are funny to anyone else not having seen them in action, all wibbly like, like... like aliens!
I started and finished a little crochet project for Mr C as it was Fathers Day on Sunday. Mr C had bought me a crochet animal book for mothers day. He seemed quite taken with the concept of crocheted animals so I made him a goat. It's a little joke of ours from Catherine Tate
"It were a curry made of goauuurt!"
(Thank you
Helen
for finding the perfect link. Be warned people Catherine Tate is not politically correct.)
Yes that is a pair of stripy under crackers and Mr C is making goat noises. Scary.
And that is a star sticker in Big's hair.
And this is supposed to be a goat, the head is a strange shape.
Mr C was chuffed with his gift from the little fella's (me). He had a nice(ish) Fathers Day despite really not being that bothered about it. He went to karate in the morning, and then we went to our neighbours for a housewarming, then he developed a bit of a migraine and went to bed till the boys were in bed.
Now get ready for the horror which is my home. I tidy..they mess it all up again and again and again. This is why I have very little to show for my time this week.
The playroom "Tip it up, tip it up" they chanted
"This is our boat, Mummy!"
Big's ransacked bedroom, it gets worse...
...much worse. I have some industrial polyfilling to do.
A small mess in Little's room
More destruction
It's not all down to the boys though.
My crafting mess in the spare room


I've made a right old mess trying to start and finish (over optimistically) a number of projects.


The dust came from underneath the door when the tiles were being drilled out
We had the builders in to sort out the drains in the utility room (tilly woom as Big calls it), it's part of the old house with the old drainage system. I think it was once an out building that got badly incorporated into the main body of the house. I'm sure a female builder would have put something across the bottom of the door to stop the crap from billowing through. The whole of the downstairs was covered in a layer of red brick dust. Grrrrrrrrrr. But at least there's no eggy smell floating up from the drains now.
The AGA has been broken since April 2010. I have been very patient, very, very and finally we are getting it mended and converted from oil to electric so it can be programmed to come on and go off like the heating and water. To get it mended the granite had to be removed. The builder pulled it off after he'd fixed the drains but the AGA people aren't coming till August so I'll live with the mess for a while longer.
Of course all the gubbins from the utility had to come out and be scattered amongst the kitchen while work was carried out, it has had a knock on effect to the whole house and I still haven't got things back to normal! Not helped by the fact that my mind isn't functioning properly, I'm so flummoxed by things.
The diet continues, I've lost a stone. Just half to go. Gosh it is SOOOOOOOO BORING!
I tried to jazz up my salad with edible flowers but it was still salad. Lucky for me that I enjoy salad, fruit and veg.
I also have chocolate everyday too, just a few squares, enough to satisfy the cravings. Sometimes I'll eat nothing but salad for lunch and supper and then I'll have a Snickers bar. Mr C rolls his eyes when I do this but I have way more than my 5 a day so where's the harm!
This was one of my birthday cards from the gal who spent the Royal Wedding with us. We have both said on more than one occasion that there should be a screen available at weigh ins so those who want to can weigh in in the rudey nudey! Not that I go to weigh in's anymore, I do it at home on my own for free.
xxx
ps. Don't tell Bee but next time I go to her house I'm nicking these cups!
Oh yes I am! Ha!