Ta ta ta ta ta taaa daaaaaaa....parp! (like at the end of The Muppets opening tune)
I've woven in a blazillion ends.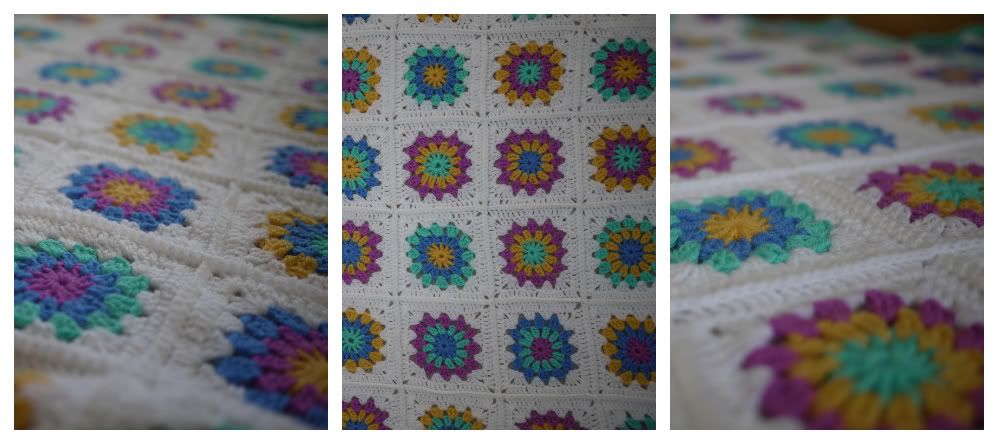 I've taken a heap of pics and played around with them.
Mini has quality control tested his blanket and gives it the thumbs up.
I'm pretty chuffed with the new stitch I learnt for the border. It's a Puff Stitch, similar to but not to be confused with The Bobble Stitch which is my first love when it comes to decorative stitches.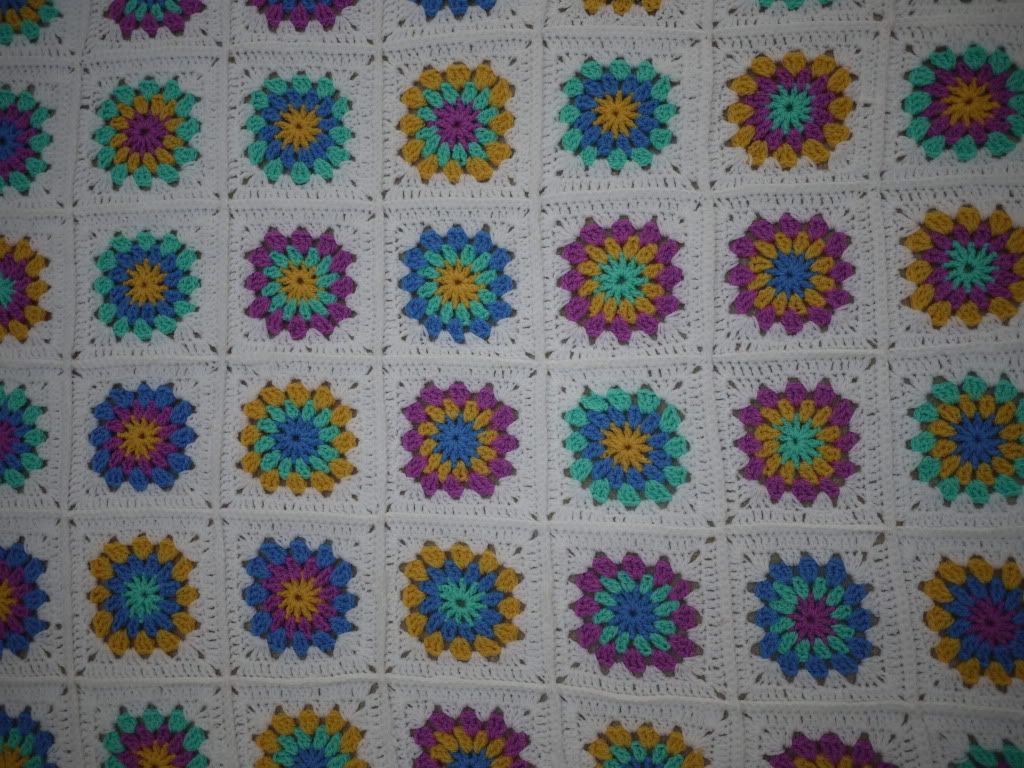 Here's the middley bit in all it's glory.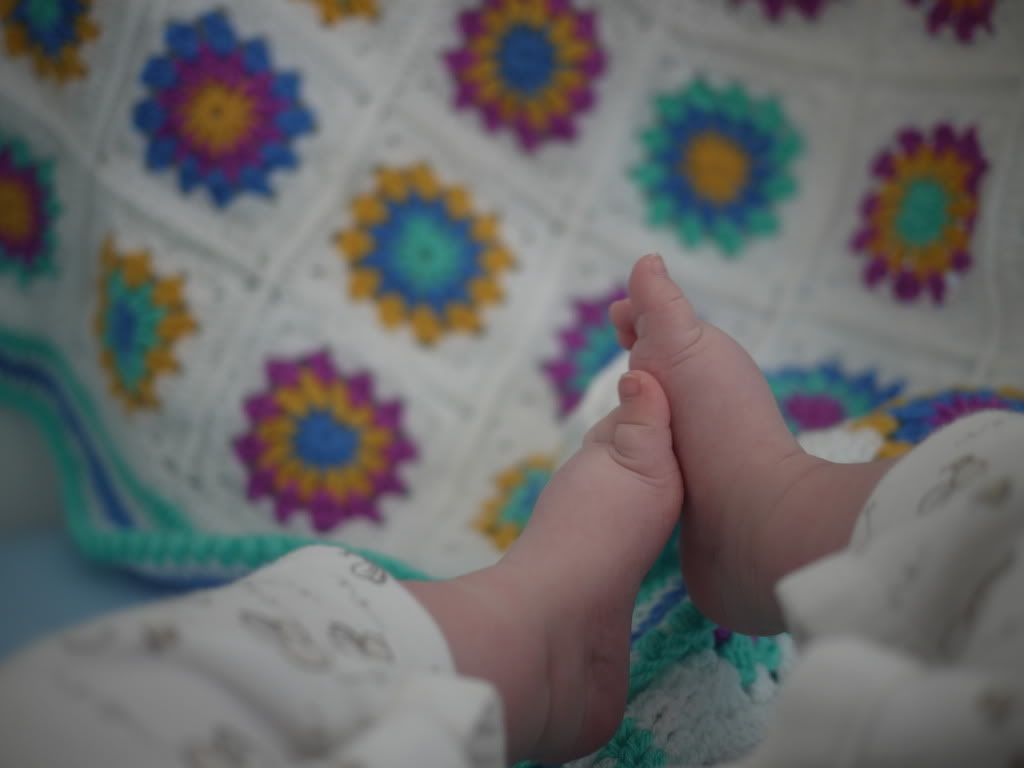 And here are some cute feet.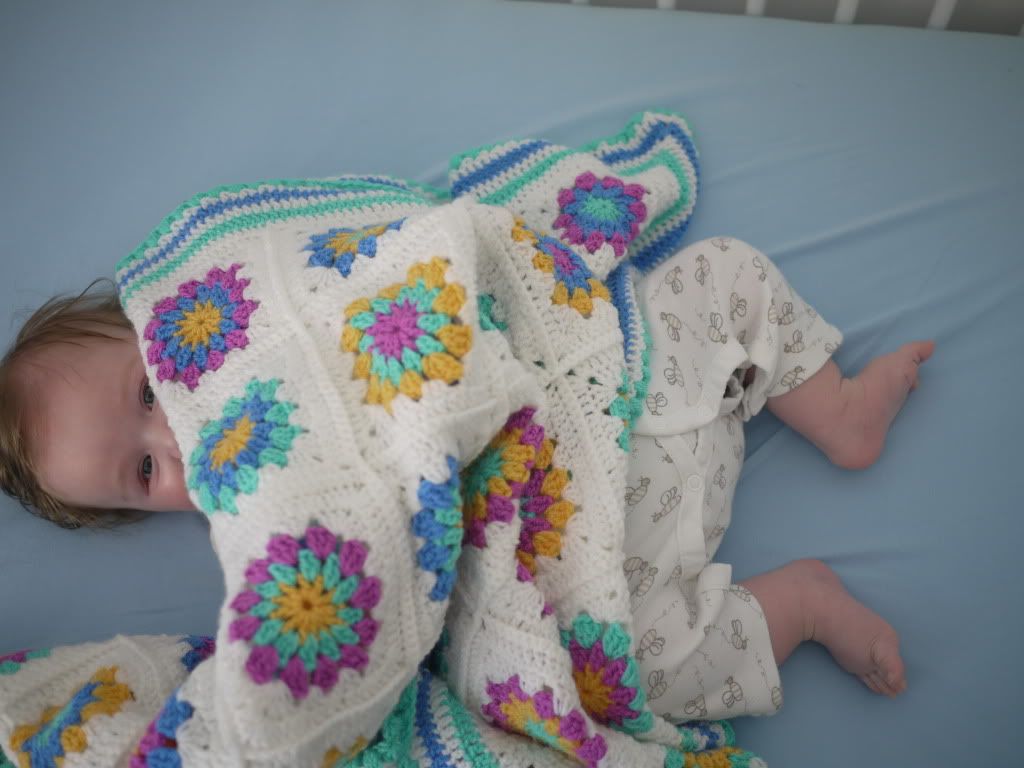 Altogether now "aaaaaaaaahhhhhh baby loveliness, ahhhhhhhhhh crochet loveliness!"
Although I am biased since I made both.
And here is a photo of where the blanket will spend a fair bit of it's life. Being washed. He already threw up on it! Good job it's just Stylecraft acrylic and not some fancy posh yarn. I will positively encourage him to drag this blanket around the garden with him. I envisage him playing in a wigwam with it. Therefore I name this blanket, which I started in
March
, The Wigwam Blanket. Four months to complete, not bad going for a Mother who is reacting to "stuff" as it comes my way rather that preparing for "stuff". Not bad for a tail chaser and a person of little sleep. Ok so it's not perfect. The edge doesn't lie flat as I added too many stitches at the corners. I don't feel the love for the purple. I do love the ridges where the squares are joined together. But mostly I love it because I thought about my darling boy the whole time I was working on it. My happy memories of his baby days are woven into each and every stitch. I'm adoring his baby days, absolutely adoring them. I can safely say (despite having two gruesome hours with the three boys after school today) these are the happiest days of my life. I love my children. I love my husband, we've been laughing and being silly with each other a lot this evening. It's all good this very moment. If you'd said to me at 530pm that I'd be writing that last sentence I'd have spat "Don't be ridiculous you twerp!!!!!!!" But a glass of amaretto and a skinny cow lolly and all is well in the world. Simple pleasures.
We have the Out Laws 40th wedding anniversary this weekend. I've baked and decorated a cake. I'll show you next week.
xxx
Vital Stats:
Stylecraft Special DK in Aster (blue), Magenta, Saffron, Aspen (turquoise) and White. Used about half a ball of Aster, Magenta and Saffron, just over one ball of Aspen and just over 3 balls of white.
The square was sort of copied/made up from a couple I liked so I haven't got an actual pattern. I just chained 4 and ss together then chained 4, then 1 tr 1ch till I had 12 spokes. Next round, I did two trebles between each spoke of the first round. Then 3 tr in each space of the second round. Then I did three trebles in the spaces of the previous round but made it become a square by popping two sets of trebles in where I needed corners. Next round I placed a treble in to each stitch and chain space in the round below except for the corners where I stitched 2 tr 2 ch 2 tr. Sorry this isn't a proper pattern/tutorial...but there isn't one. I just crocheted and if it looked right then I carried on. I don't think any of the squares are quite perfect as they all either have a mistake or a variation. Not that you can tell. Thats the beauty of a granny blanket!
edit: tutorial for a very similar granny square here
I joined it all together by double crocheting the squares together in rows vertically first then horizontally. This is quite hard to explain, but I crocheted through the two loops on each of the squares. No that doesn't make sense at all... If you look at Lucy's
tutorial
and then go through BOTH the loops on each square rather than just one on each granny square then you get a more defined ridge. Place the wrong sides of the squares together so you have the ridges on the right side of the blanket.
It's all a bit vague and wishy washy but I didn't really think anyone would want to copy it!!
xxx